Check out our digital rights weekly update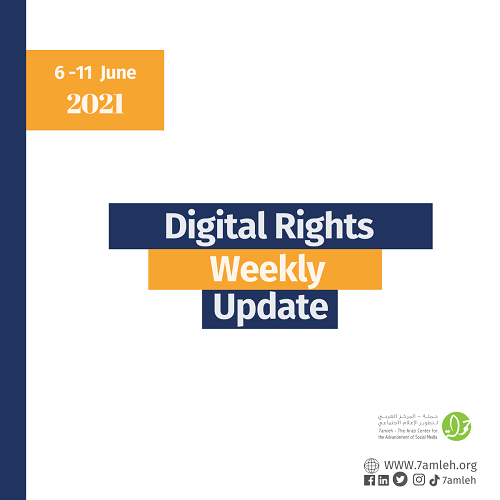 Double Check: Why Are Marginalized Users Most Affected by "Technical Glitches"?
Logically
Ilma Hasan explores how "glitches" or more accurately inherent bias in the algorithms that moderate content on popular social media platforms, more often than not tend to impact "marginalized communities" and the residents of the "global south" more disproportionately than their counterparts in the global north. The report cites Mona Shtaya from 7amleh, who approves that whether it is in Palestine, Kashmir, or the Western Sahara, users who are already discriminated against in the offline world, often meet similar discrimination online.
Tech giants work hand in hand with Israel to muzzle Palestinian voices
Press TV
Instagram, Facebook and Twitter have cracked down heavily on Palestinian content relating to Sheikh Jarrah in May 2021, by indiscriminately removing posts and closing accounts of Palestinians without sufficient explanation. Facebook and TikTok told the office of Benny Gantz, the Israeli Minister of Defense, that they would respond quickly to requests by the government to remove Palestinian content. The report quotes Nadim Nashif, the director of 7amleh, who explained that these crackdowns are connected to this relationship between the Israeli Cyber Unit and social media companies, which has existed for years now.
Facebook: employees denounce "censorship" of pro-Palestinian content on social network
France 24
During the recent Israeli attack on the Gaza Strip, many voices have been raised to denounce "censorship" of pro-Palestinian content on several social media platforms. Facebook, in particular, was under fire for removing numerous pro-Palestinian posts without giving any explanation. This week, it is the employees of Mark Zuckerberg's social network themselves who are calling their management to be held accountable for these actions. The report cites 7amleh's work to document 500 violations in May 2021, as well as involvement of the FB We Need to Talk campaign in late 2020.
Palestinian neighborhood goes viral amid violence
Taipei Times
Taipei Times conducted an interview with Mohammed Alkurd from the Jerusalemite neighborhood of Sheikh Jarrah, on the role of social media in raising awareness about ethnic cleansing in East Jerusalem. The report cites 700 violations documented by Sada Social Center, of content takedowns and closed accounts of Palestinian users.
Tech Giants Help Israel Muzzle Palestinians
Dissident Voice
Facebook and TikTok have agreed, according to the office of Benny Gantz, to respond "quickly an effectively" to Israel's requests to remove Palestinian content it deems "inappropriate." The report cites 7amleh's 2020 "Index of Racism" as well as a 2019 study by 7amleh on the chilling effect of internet crack downs by the Israeli authority against Palestinians.
Israel's new tool: normalizing occupation through digital means
Kashmir Observer
This article outlines the ways Israel is using digital media to "normalize" the image of the occupation, through opting for terms that "erase" Palestinians, like referring to Palestinians as "Arabs," as well as using "targets" and "strategies" to describe lethal attacks on Palestinian civilians. The article also demonstrates how censorhsip of Palestinian content, through strenghtening the relatinship between the Israeli authoirty and social media companies, can also contribute to such normalization. The article cites 7amleh's latest report about 500 violations of Palestinian digital rights, that the center docuemnted and worked with in May 2021.
Cyber Censorship Hits Colombia, India and Palestine
Toward Freedom
This article reports on online censorship in India, Colombia and Palestine. In India, users posting regarding COVID-10 demanding better working conditions for front line workers and promoting relief initiatives are facing content takedowns, while in Palestine anc Colombia, content regarding rest unrest in both countries is being indiscriminately censored from the platform. On the section about Palestine, the report cites 7amleh's research "Index of Racism 2020" and an interview with Alison Ramer who reports over 500 cases of censorship documented by the center inb May 2021 alone.
Checked expression in Iraq, unchecked repression in Egypt and Saudi Arabia, and censoring Palestine
IFEX
This report tracks recent censorship that took place online, as well as repression offline in relation to social media activity in Iraq, Saudi Arabia, and Palestine. In the section about Palestine, the report accounts for the censorship on social media platforms, as well repression on the streets against activists and advocates online, that took place in May 2021, specifically in the Jerusalemite neighborhood of Sheikh Jarrah, and cited 7amleh' most recent report which documents 500 violations the center addressed in that period. The report also quotes 7amleh's annual report on the work of the Israelu Cyber Unit, as well as an interview with Mona Shtaya, the Local Advocacy Director at the center, in which she stresses the importance of amplifying Palestinian voices in such times.
Facebook employees write petition asking company to address Palestinian censorship on platform
India Today
Facebook employees have posted a petition on an internal forum which reportedly has 174 signatures. Facebook has been under fire in the recent past for censoring and removing Palestinian posts without explanation. The social media platforms were widely used by Palestinians to share information from a variety of areas including the East Jerusalem neighbourhood of Sheikh Jarrah where people faced eviction. The report cites 7amleh's work in May 2021, specifically in documenting violations on Twitter.
TikTok becomes vital weapon in Palestinians' digital war
Al-Monitor
As Twitter and Facebook suspended accounts supporting the Palestinian cause in the recent escalation, Palestinians turned to TikTok to mobilize international sympathy and fight the Israeli narrative. The report shows how while like on other platforms, Palestinians were banned and limited on TikTok, they were still able to utilize the platform to document protests, violations and raise awareness about Palestine to the world.
US tech employees want companies like Amazon and Google to sever ties to Israel
Press TV
US tech employees and Palestinian rights activists are lobbying companies like Amazon and Google, through writing open letters and writing petitions, to sever their ties to the Israeli regime and accuse Facebook of "silencing" their cause of boycotting Israel in the wake of the recent Israeli aggression against Palestinians in the Gaza Strip.
#SheikhJarrah: From Jerusalem neighbourhood to global hashtag
Borneo Bulletin
Shatha Yaish reports on how the use of social media platforms helped popularize the cause of the East Jerusalem Sheikh Jarrah neighborhood, threatened with forced displacement, at an almost unprecedented international scale. The report follows Mohammed al-Kurd and other residents of the neighborhood who confirm that social media enabled them to carry their message to the world and foster international solidarity at a level they were not able to reach before.
U.N. Joint Statement: Experts Call For Centering Digital Rights In Pandemic Recovery On Eve Of RightsCon 2021
Scoop World
A new statement from U.N. Special Procedures was released, emphasizing that digital rights are "a top priority" to rebuild civic space amid recovery from the COVID-19 pandemic. The nine experts who co-wrote the statement, will be taking part in RightsCon 2021, marking the third consecutive year that Special Rapporteurs have issued a statement in light of thematic discussions to be held at the global summit on human rights in the digital age.
Facebook Works With Israel To Suppress The Palestinian Narrative
WORT FM
WORT FM hosted Nadim Nashif, the Executive Director of 7amleh on a podcast, where he tells us how Facebook and other social media are working with the Israeli government to silence Palestinian voices in the Middle East. Nadim told WORT that since the start of 2020, the Israeli government has made over 20,000 requests to Facebook to remove postings made by Palestinian citizens, and that Israel is making a concerted movement worldwide to equate speech and activities against the Israeli government with anti-Semitism, and how 7amleh is working to keep Palestinians from being silenced.