Join us for the Palestine Digital Activism Forum 2021.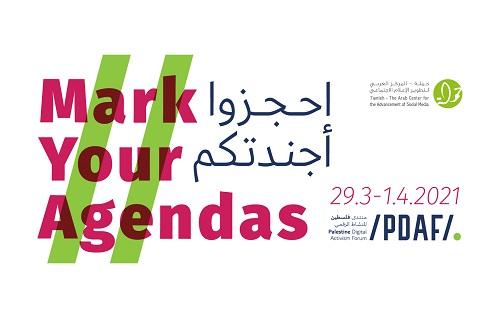 It's time to mark your calendar! 7amleh - The Arab Center for the Advancement of Social Media is busy preparing for the 5th edition of the Palestine Digital Activism Forum (PDAF) which will be held from March 29 -April 1 2021. The event will be held online on a unique platform for digital engagement with various activists, human rights defenders and digital experts, members of civil society, technology companies and governments.
This year the PDAF will be focused on "Palestinian Digtial Rights During and After the Coronavirus Pandemic" and look at how the response to the coronavirus is impacting Palestinian digital rights.
The PDAF 2021 is a platform for activists, technicians, academics, jurists, media professionals, and human rights workers at the local, regional and international level to share experiences, best practices, knowledge and skills on these issues. Discussions will dive deeper into issues such the increase of time online during the coronavirus; the increase of fake news during the coronavirus; the impact on technologies, espionage, surveillance and tracking; as well as how the coronavirus has changed the social and professional life, access to information, and data protection and safety, in particular regarding health and medical data.
A unique digital experience awaits you!
Mark your agenda and follow us for further details to be released soon.
To see more information about the theme click here.
Do you want to propose and organize a workshop, panel-discussion or round table as part of the PDAF? Submit your idea here.