7amleh and Innovation for Change train 160 and reach more than 1.5 million with their Digital Advocacy Week "#RaiseYourVoice".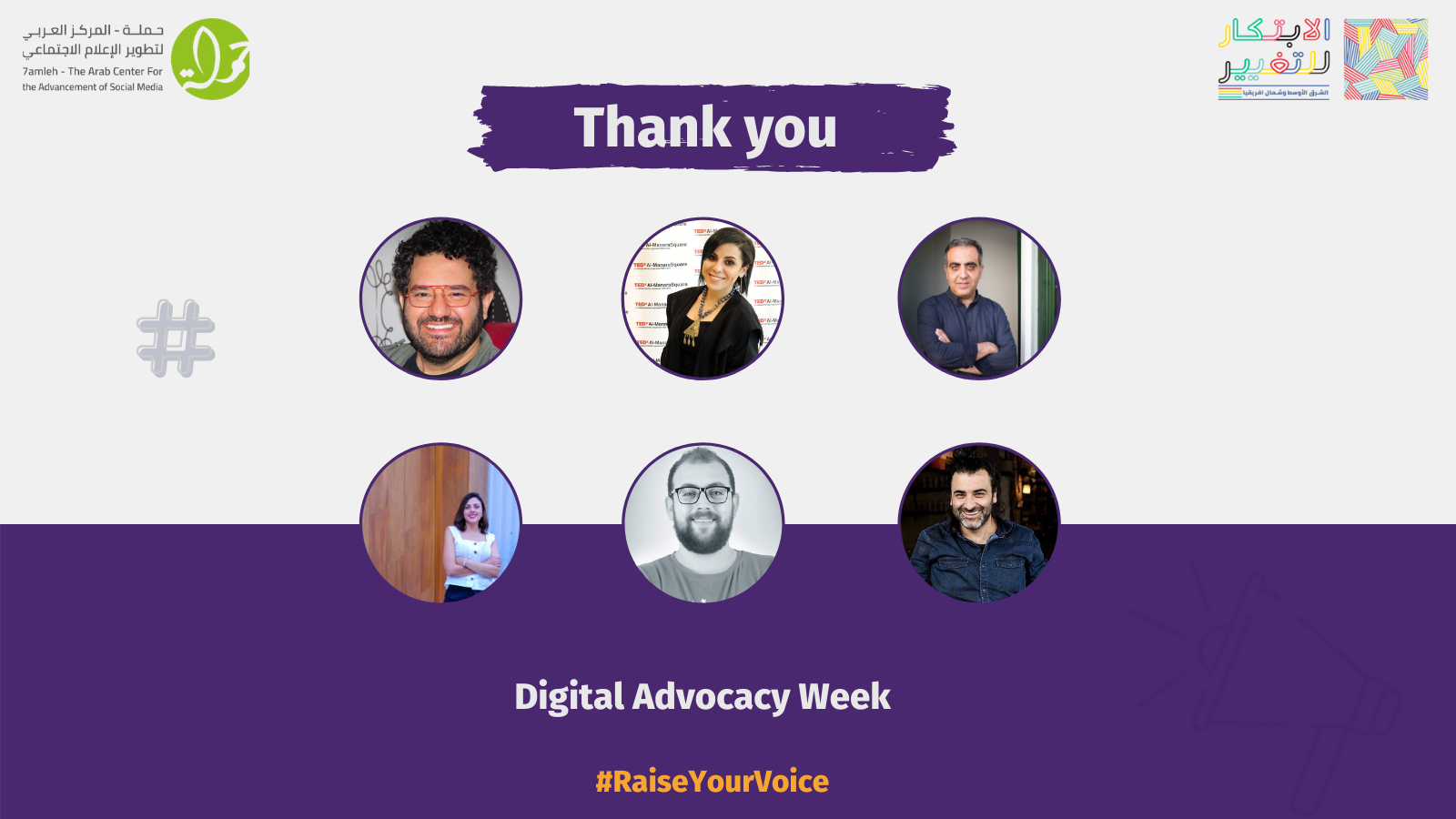 7amleh - The Arab Center for the Advancement of Social Media in cooperation with Innovation for Change MENA concluded the Digital Advocacy Week "#RaiseYourVoice." This work is a part of 7amleh's ongoing work to raise awareness on digital security and digital rights November 15 - 19th 2020.
Six workshops in Arabic were held to introduce participants to the digital tools meant to enable activists and human rights defenders to mobilize and advocate for social justice causes online and carry out their campaigns online more effectively. The workshops included topics such as how to use video and graphics, graphics in advocacy, design, campaign management, podcast development and digital storytelling. The workshops were given by experts in the respective field. Elia Ghorbiah delivereda workshop on video making, Mohammad Badarneh on the use of graphics in advocacy, Muhammad Yassin on designing for non-professionals, Shahed Bani Odeh on podcasts and Muhammad al-Qaq on digital storytelling.
The workshops were held online and thus gathered a wide local and regional audience, with more than 160 participants and almost 7000 views of the live-stream reaching almost 1.5 million on Facebook.
Sami Shmasneh of the Cultural Forum Center stated, "These workshops contributed to further deepening our understanding of many issues and how to deal with them". Similarly, Hanin Sharif summarized her experience, "As someone new to the field, I found the content was logical and well prepared. It helped me organize my thoughts. The explanations were helpful."
Yara Daw, 7amleh's project coordinator, stressed the importance of the event and the success in enriching and enhancing advocacy by digital means, with the Digital Advocacy Week just one part of 7amleh's ongoing projects and campaigns to improve digital skills and rights throughout Palestine in particular and in the Arabic-speaking world in general.
Razan Nour from Innovation for Change added,: "The digital advocacy workshops focused on the use of technology to motivate audiences on humanitarian and human rights issues as part of the Innovation for Change goals in MENA region and to direct advocacy efforts to influence public awareness of the closing civil society space in the region, and to make digital advocacy tools a part of the skills and practices of organizations working for policy reformation."