Join our virtual day of action on 23 September and urge Facebook to uphold human rights.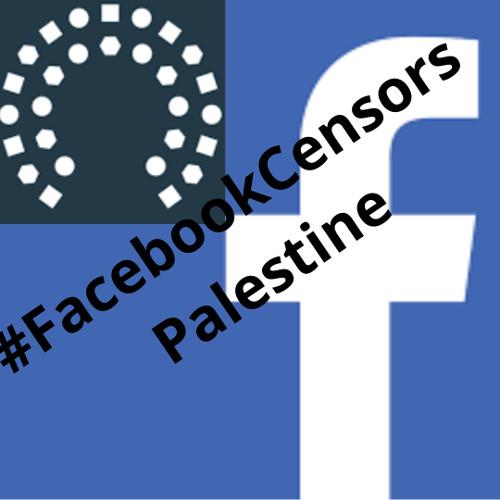 A global group of civil society organizations including 7amleh, Jewish Voice for Peace, the Palestinian Institute for Public Diplomacy and others are calling on Facebook and the Oversight Board to stop supporting Israel's efforts to censor Palestinian voices on the platform. In particular, organizations are calling on Facebook to drop Emi Palmor, who was elected to the Oversight Board earlier this year.
Under Emi Palmor's direction as the former general director of the Israeli Ministry of Justice, Israel petitioned Facebook to censor legitimate speech of human rights defenders and journalists because it was deemed politically undesirable. Now she's sitting on Facebook's Oversight Board increasing the chances that the speech of human rights activists worldwide will be censored.
7amleh and our colleagues encourage defenders of human rights to join our virtual action day #FacebookCensorsPalestine on September 23 by signing the petition and raising awareness on social media about the danger of having Emi Palmor on the oversight board.
The Oversight Board was created to "exercise independent judgment over some of the most difficult and significant content decisions". Emi Palmor as the former director general of the Israeli Ministry of Justice oversaw Israel's efforts to censor Palestinian content on Facebook and ther social media platforms and cannot be trusted to exercise independent judgement.
7amleh and other civil society organisations have already warned of the threat to digital and human rights of this appointment in May, and held dialogue sessions between Palestinian civil society and Facebook to increase the formers access to Facebook representatives in June. 7amleh has been working on issues related to Palestinian freedom of expression on Facebook since 2018, including the research "Facebook and Palestinians: Biased or Neutral Content Moderation?" published in October 2018.
Sample Posts:
Tell Zuckerberg: Members of the @FaceBook @OversightBoard should have a record of upholding human rights, not of censoring oppressed communities like Palestinians living under brutal military occupation and apartheid: facebookcensorspalestine.org
#FacebookCensorsPalestine
Under Emi Palmor's direction, the Israeli Ministry of Justice petitioned @Facebook to censor legitimate speech of human rights defenders and journalists because it was deemed politically undesirable. Now she's sitting on Facebook's @OversightBoard. Tell @Facebook to #DropEmiPalmor: facebookcensorspalestine.org
#FacebookCensorsPalestine

Facebook has a history of complying with the Israeli government's requests to delete Palestinian's accounts, as well as block and filter content. There's a clear political nature of social media censorship regarding censorship of Palestinian voices: facebookcensorspalestine.org #FacebookCensorsPalestine 1/2
In 2019, Facebook complied with 79% of the Israeli governments' requests to remove user data. Reasons for these requests were not disclosed. Now @facebook has appointed Emi Palmor, Israel's former Justice Ministry general director to the @OversightBoard: facebookcensorspalestine.org #FacebookCensorsPalestine 2/2
A former Israeli official who oversaw the unlawful efforts of the Israeli Ministry of Justice to remove thousands of pieces of Palestinian & #Palestine related content should not sit on an @OversightBoard responsible for upholding the #HumanRights and dignity of all – worldwide. Tell @Facebook to #DropEmiPalmor: facebookcensorspalestine.org #FacebookCensorsPalestine

You want to stand up for #HumanRights and #FreedomOfExpression? Join us in urging @Facebook to #DropEmiPalmor from its @Oversight Board now, and join our day of action tomorrow: facebookcensorspalestine.org #FacebookCensorsPalestine

Selection of Emi Palmor to the @Facebook @OversightBoard risk to #FreedomOfExpression and #HumanRights. Tell Facebook this is not okay: facebookcensorspalestine.org #DropEmiPalmor #FacebookCensorsPalestine

Can @Facebook's @OversightBoard really be 'independent' when former Israeli Ministry of Justice director general Emi Palmor - responsible for the removal of countless posts of Palestinians on the platform - is part of it? Tell Facebook to #DropEmiPalmor and ensure #HumanRights for all: facebookcensorspalestine.org #FacebookCensorsPalestine

@Facebook's @OversightBoard now includes former #Israeli Ministry of Justice director general Emi Palmor - further endangering #Palestinian #FreedomOfExpression and #DigitalRights. Sign the petition and urge Facebook to re-think this step: facebookcensorspalestine.org #DropEmiPalmor #FacebookCensorsPalestine

@Facebook has struck several deals with the Israeli authorities, ensuring that Palestinian content is censored on the #SocialMedia platform. Find out the details in @7amleh's research "Facebook and Palestinians: Biased or Neutral Content Moderation Practices": https://tinyurl.com/y5ynmbbv #FacebookCensorsPalestine
Do you want to stand up for #HumanRights for all on Facebook? Tell @Facebook that the selection of Emi Palmor to its @OversightBoard is a threat to #FreedomOfExpression and #HumanRights here: facebookcensorspalestine.org #DropEmiPalmor #FacebookCensorsPalestine