The Palestinian Digital Rights Coalition warns Palestinians not to download and use Al Munasq, a dangerous application launched by Israel's Coordination of Government Activities in the Occupied Palestinian Territory unit (COGAT) last year. The application violates Palestinians privacy and can lead to other human rights violations.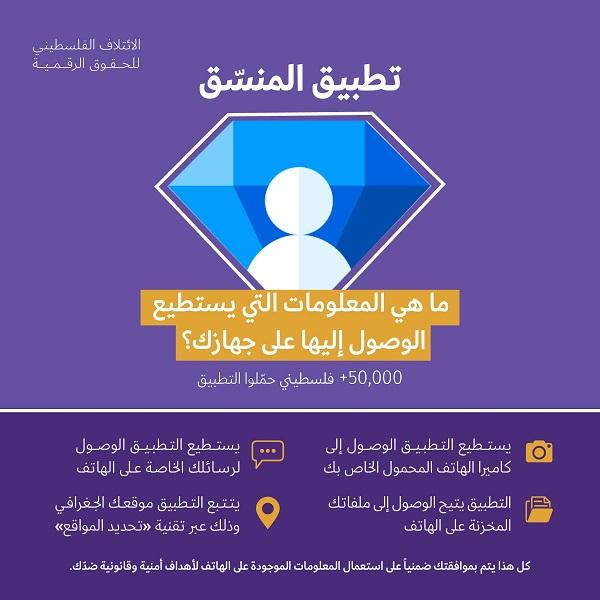 Despite the fact that the application is providing Palestinians with necessary services, the application is also collecting private information about the user, including files, messages, location data and even information from the camera, as revealed by Israeli media. This information is then used by the Israeli security services to spy on, develop profiles of and track Palestinians.
Palestinians are subjugated to a permit system enforced by the Israeli occupation. Now, under the pretext of the corona virus, Israel's COGAT unit is denying Palestinians access to in-person services. Instead, they are being forced to use the Al Munaseq application and consent to violations to their rights. As such, the app is an extension of the bureaucracy of the Israeli occupation.
So far, approximately 50,000 users have downloaded the application, with a rise in downloads due to restrictions under the guise of Covid-19, which forced many Palestinian workers to seek permits so that they can remain overnight in Israel rather than returning home to the West Bank while restrictions on movement have been more severe. When agreeing to the terms of service of the application - which are obligatory to comply with in order to access the application - the user automatically must give access for the application to their data. The Palestine National Coalition for Digital Rights stresses that this application exploits Palestinians and further enables Israel to exert power and control over Palestinians, while further violating their human rights and digital rights. The Center for the Defense of the Individual (HaMoked) has previously called for the removal of the application as forcing the use of it is a violation of Palestinians' right to privacy.
Nadim Nashif, the Executive Director of 7amleh - The Arab Center for the Advancement of Social Media, stated that, "This application is a gross violation of Palestinian digital rights, because the application forces the user to agree to the terms of use that give access to their private information, which can be used against them in legal and extra-legal ways. This constitutes a violation of International Human Rights Law, in particular Article 17 of the International Covenant on Civil and Political Rights which includes the right to privacy."
Similarly, Mahmoud Al-Afranji, Coordinator of the Council of Human Rights Organizations confirmed that, "The application constitutes a serious security breach of Palestinian society as it combines personal information of the civil records, such as place and date of birth, information on the extended family, place of residence with military records, tracking movement. The app can access all information and data on any other application on the same phone, including location data, incoming and outgoing calls, messages and emails. It's basically like keeping the Shin Bet [Israeli secret intelligence] around to permanently watch your every step."
The Palestinian Digital Rights Coalition recommends that third party states and civil society work to ensure that Palestinians are not forced to comply with using digital services that violate their rights to privacy. For individuals who have downloaded the application, we recommend that it should be removed from your phone.