7amleh, in cooperation with Birzeit University and the Palestinian Ministry of Education invites to the first Digital Security Education Conference.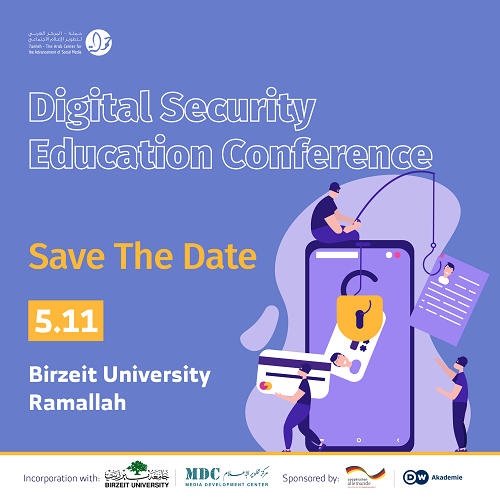 7amleh - The Arab Center for the Advancement of Social Media, in coordination with the Media Development Center at Birzeit University and the Ministry of Education invite you to the first Digital Security Education Conference on Tuesday, November, 5th 2019 at Birzeit University.
With attention to digital rights increasing just as much as violations of these rights, the Digital Security Education Conference aims to improve coordination for best digital security educational practices and raising awareness on its importance.
The conference will focus on how to improve the digital security education of individuals, families and institutions. It includes two panel-discussions and four workshops on issues such as Gender-Based Violence online, organisational digital security and social media strategies. It will include the participation of several local and international experts and provide networking opportunities for digital security professionals and the public.
Venue: Birzeit University - Faculty of Law Hall Date: Tuesday, November, 5th 2019 Time: 09:00 - 15:00
Registration: https://bit.ly/2OqRXNp