7amleh Center's students in Digital Campaign Management training for NGOs graduate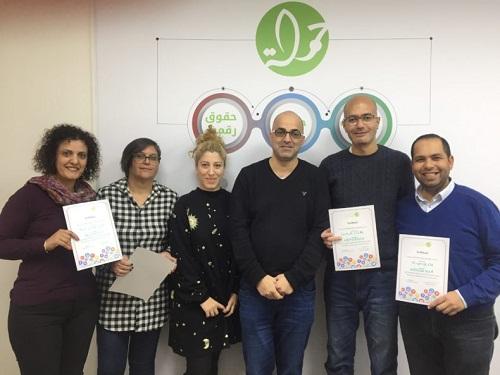 Last week, a new group of digital campaign managers from non-profit organisations graduate 7amleh's course. More than a dozen Palestinian participants within Israel from different NGOs and social initiatives took this long-term training course which contains 70 hours of training over a period of 5 months. This training course covers different topics within campaign management such as social marketing principals, building of media plans and strategies for organisations, inbound marketing, search engine optimization, website building, marketing through search engines and social media platforms, and content-marketing.
A group of experts including Rana Assali, Muhammad Jabali, Ahmad Diab and Iyad Barghouti were part of the team of trainers. 7amleh Center organises trainings and capacity building in the field of digital activism, digital security, digital marketing, campaign-building, crowdfunding etc. for Palestinian communities in the West Bank and Israel periodically.
7amleh Center is a non-profit organisation that aims to empower Palestinian society on digital advocacy through building professional capacities and defending digital rights and building effective media campaigns.