7amleh creates the first ever Wikipedia Palestine group with the support of the Wikimedia Foundation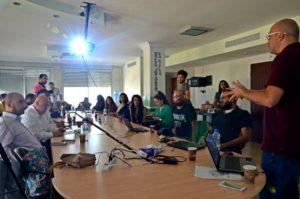 On Saturday in Ramallah, a unique event took place, initiated by 7amleh- the Arab Center for the Development of Social Media, coordinated with and supported by the global Wikimedia Foundation. This brand new project, entitled Wikipedia Palestine, was opened by a workshop containing five trainings, and included the participation of dozens of activists and journalists from both sides of the Green Line.
The workshop was first addressed by Nadim Nashef, co-founder of the 7amleh centre, who made a presentation in which he outlined the 7amleh centre's ethos, focuses and activities. He went on to introduce the objectives and aims of the workshop, which were primarily, but not exclusively; to enrich the general Arabic content of Wikipedia, to strengthen the online Palestinian voice and presence, and to create an efficient system whereby the continuous stream of online misinformation can be challenged with regularity and professionalism. He explained that this first workshop would include five training events managed by three editors/activists from the Arab Wikipedia; Farah Mustaklem, Mohamed Abdul Haq, and Ahmed Hijjawi.
The editors' trainings were received well by the group, as it was clear that there was a lot of motivation and openness to new information, which created an honest discussion, and therefore a solid base from which this campaign will easily spring. Mustaklem gave a presentation in which he gave participants information about the statistical figures of geographical distribution of the user, and the effectiveness of the Arab editors on the free encyclopedia. Hijjawi shed some light on the organisation Wikimedia Foundation, and in his presentation highlighted the institution's history and future projects and activities. Abdul Haq concentrated during the workshop on how to create new content, and how to work to modify the existing available content, based on the information that changes and is replenished daily.
The participants were unanimous in the conclusion of the workshop on the importance of establishing a Palestinian group and consistent follow-up to enrich the content of the Palestinian and Arab "Wikipedia", through joint work between Palestinian activists in various locations.
7amleh reiterates its call for all those concerned and interested to join and participate in Wikipedia Palestine, which will continue its developing stages as a regular monthly event in Ramallah, during which the participants will be trained by the editors.