Apply Now!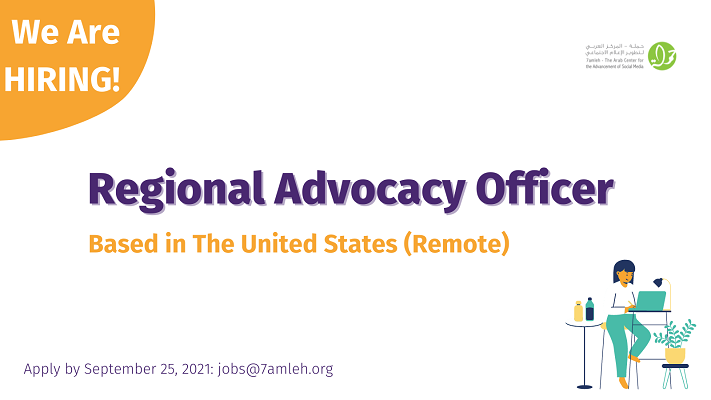 POSITION: Regional Advocacy Officer (United States)
REPORTS TO: Executive Director
LOCATION: United States (remote)
COMPENSATION: $60,000
Job Type: Full time
*DEADLINE EXTENDED to 25/9/2021
ABOUT THE ROLE
Over the past few years, 7amleh - The Arab Center for the Advancement of Social Media has expanded its work in the United States through partnerships with U.S. based organizations that share 7amleh's mission of defending Palestinian human rights, specifically in the digital space. 7amleh has also worked to better connect US-based advocacy and campaigning with the efforts of the US-based coalition for Palestinian Digital Rights, in which 7amleh plays a central role. 7amleh's goal is to bring Palestinian issues to the forefront of the international digital rights movement and change policy.
The US-based Regional Advocacy Officer will focus on this initiative by helping to organize and take part in meetings with 7amleh's partners in the United States, as well as collaborate and conduct campaigns with regional civil society organizations focused on Palestinian human rights in the digital space. The advocacy officer will also engage policy makers and contacts in social media companies through meetings to discuss and address Palestinian digital rights in the U.S. In some cases, the advocacy officer may engage elected officials in order to further policy goals.
The Advocacy Officer reports directly to the Executive Director and works with other relevant 7amleh staff to ensure cohesive and integrated campaigns, programs and events. He/she/they may also represent 7amleh in public-facing coalitions and events and will hold relationships with key international partners.
ABOUT 7amleh
7amleh - The Arab Center for the Advancement of Social Media is a non-profit organization focused on protecting the human rights of Palestinians in the online space. The sole Palestinian organization dedicated to securing Palestinian digital rights and improving the skills of Palestinian civil society in digital activism, 7amleh has been at the forefront of raising public awareness of Palestinian digital rights and promoting the concept of digital rights as an integral part of the struggle for human rights. Moreover, 7amleh is also working to amplify the efforts of other Palestinian human rights organizations and empower digital activism through research, trainings, workshops and our annual Digital Activism Forum, the only of its kind in Palestine. Established in 2013, 7amleh's team works across Jerusalem, the West Bank and Israel and regularly participates in international forums with local and international partners.
7amleh works with civil society activists and organizations, academics, journalists and media outlets, both locally and globally, with the goal of promoting social change and reform. 7amleh is a Palestinian platform working to spread the voice of the Palestinian people across the region and around the globe. Our aim is to address the cutural, economic, social and political complexities of the Palestinian case,and in doing so breakdown stereotypes about the Palestinian narrative that hinder understanding of the Palestinian reality. Our vision is to actualize the transformative possibilities of social media by training the current generation of Palestinian activists to use social media effectively to challenge the status quo of discrimination, marginalization, and dispossession while calling for transparency and accountability from decision-makers.
JOB RESPONSIBILITIES
- Initiate and coordinate efforts to increase the awareness of 7amleh work in the US.
- Develop and maintains a network of US-based partnerships and networks (online and offline).
- Coordinate 7amleh's campaigns and advocacy efforts with the US-based coalition for Palestinian digital rights.
- Take the lead in coordinating advocacy activities in the US for the Palestinian digital rights campaigns.
- Organizing and participating in symposiums and webinars on behalf of 7amleh.
- Actively work with the media and programs team to promote 7amleh visibility via US- based media.
- Continuously produce publications that highlight and explain 7amleh successes and contributions to target audiences, stakeholders and partners in accordance with 7amleh guidelines.
- Write up detailed reports, articles, news items, presentations or other documents as required by 7amleh for information, publication, and advocacy purposes.
- Provide support to increase engagement with our campaigns.
- Liaise with US stalkholders and regularly inform them of policy changes, Palestinian digital rights violation.
- Establish connections with and engage social media company representatives and policy-makers to pursue policy changes that protect Palestinian digital rights.
- Engage in public speaking, writing, and media, lifting up the work of 7amleh..
JOB QUALIFICATIONS
Previous experience working with human rights NGOs (preferably with a focus on Palestine)

Experience in advocacy and policy spaces (preferably in digital policies)

Knowledge of the historical and current political and human rights context in Palestine. years of experience in advocacy

Experience in adapting 7amleh's communication for international target groups.

Experience in planning and conducting advocacy campaigns with coalitions and networks.

Excellent written and oral communication and networking skills, and willingness to speak publicly and do media interviews on Palestinian digital rights.
HOW TO APPLY
Please submit the following documents before: 25th September 2021 to Jobs@7amleh.org
A CV and cover letter outlining your specific interest and suitability for this role

Three References

A professional writing sample (maximum 2-3 pages)
Preferably send a previous campaign that you have worked on previously.
Work location and details:
This is a remote position located in the United States.
This is a 1099 independent contractor position.