7amlen participates in webinar by Stop the Wall.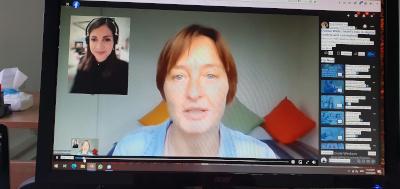 As part of 7amleh's ongoing advocacy for Palestinian digital rights, Alison Carmel, 7amleh's International Relations Manager spoke in the webinar "Digital Walls: Israel's Role in Digital Control and Colonialism" by Stop the Wall as part of the "World Without Walls 2020" webinar series on November 12th.
The webinar focused on how 'digital walls', similarly to physical walls, deny access, grant control and are used as a tool of repression, and how this phenomena has increased with the spread of the coronavirus. Israel's role in digital systems and power structures and how this constitutes a violation of digital - and thus human rights, was discussed by Alison Carmel, Sally Burch from America Latina en Movimiento, and Norman Shamas from the Open Privacy Research Society.
Alison focused on the impact of Israeli surveillance technologies on the Palestinian population, and the broader surveillance technology market. She talked about dual-use technologies, and how in the time of the coronavirus pandemic, many companies are selling their surveillance technologies as health services to governments, warning that this expansion of surveillance technologies is having consequences for the human rights of people all over the world, and how there must be better regulation on the technologies immediately.
You can watch the recording of the webinar here.