7amleh participated in the RightsCon 2020 Online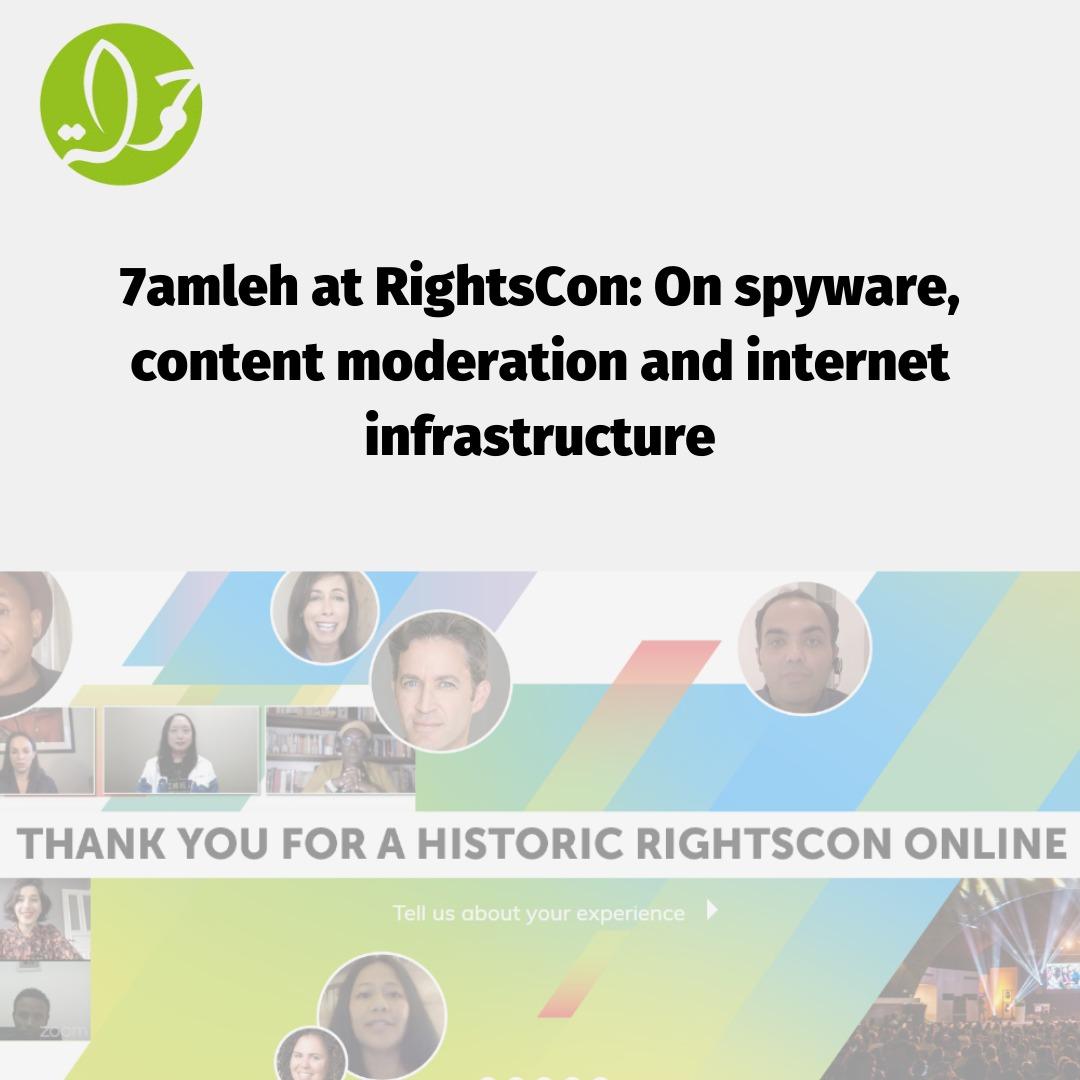 7amleh – The Arab Center for the Advancement of Social Media participated in the RightsCon event for the fourth year. Due to global travel and movement restrictions resulting from the coronavirus pandemic, in March of this year, our organisation had already transformed our annual Palestine Digital Activism Forum (PDAF) into an online event, and therefore was excited to see how RightsCon was done online.
7amleh staff participated in two panel discussions: Nadim Nashif, 7amleh's executive director, participated in "From production to deployment: Addressing the global proliferation of spyware", and Mona Shtayya, a 7amleh board member, took part in "Beyond the platform: Content moderation and internet infrastructure". Additionally, 7amleh staff attended the session "On internet universality and governance, sharing perspectives from underrepresented communities".
Nadim Nashif explained how the Israeli surveillance industry, in close cooperation with the Israeli army, develops and then field-tests their technology on Palestinians before exporting this technology worldwide. "With exports worldwide, including to oppressive regimes, this is a global rather than a solely Palestinian problem – with buyers of these technologies implicit in the human and digital rights violations of Palestinians – and needs to be addressed as such," he highlighted. The spread of the coronavirus is being used by these companies to whitewash their crimes as their work being "for humanity" and "in the interest of public health". More about this topic can be accessed by reading 7amleh's annual report, #Hashtag Palestine, and a recent position paper about facial recognition technology.
The second panel, "Beyond the platform", focused on how content moderation is a thin tightrope between further excluding already marginalised groups, and limiting hate speech. Mona Shtayya elaborated on 7amleh's research, "Systematic Efforts to Silence Palestinian Content Online", and spoke about how digital rights violations in Palestine have escalated dramatically during the pandemic – just as in other countries all over the world. She highlighted the need to work together with other digital rights defenders to address these issues.
RightsCon Online, in the words of Mona Shtayya, "challenged the global pandemic to meet with colleagues from all over the world to talk about digital rights."
Having RightsCon take place entirely online not only demonstrates how the digital space is increasingly important for many spheres of life, but also illustrates how essential it is to protect digital rights as a fundamental part of human rights.