The participation in this webinar is part of 7amleh's efforts to raise awareness about the impact of the policies and practices of states and companies on Palestinian digital rights.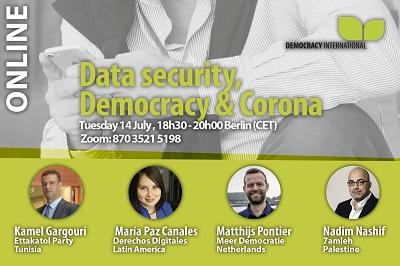 7amleh - The Arab Center for the Advancement of Social Media's Executive Director, Nadim Nashif, participated in the webinar "Online: Data Security, Democracy, and Corona" organized by Democracy International e.V. on 14th July.
The discussion focused on how governmental responses to COVID-19, such as movement tracing apps and databases of infected people, threaten democracy. Experts from Palestine, Latin America and the Netherlands discussed differences and similarities of the COVID-19 responses' impact on democratic processes.
Nadim Nashif, 7amleh's Executive Director, explained how the Israeli government - under the guise of a response to COVID-19 - is further expanding their surveillance and tracking technology, which has already been field-tested on Palestinians throughout the occupied West Bank. He stressed, "It is essential to raise awareness on the increase in governmental surveillance which constitutes a further infringement on digital and human rights".