7amleh - the Arab Center for the Advancement of Social Media concluded its third year of our Digital Safety Programme. In 2019, more than 2000 participants took part in digital safety workshops all over the country, including the participation of more than 200 people participated in the 7amleh's Digital Security Education Conference held at Birzeit University. 7amleh also developed the training skills of several digital security trainers and launched a mini-website, "Arabic Digital Safety," focused on raising the awareness of the Palestinian public about issues related to digital security and gender based violence online.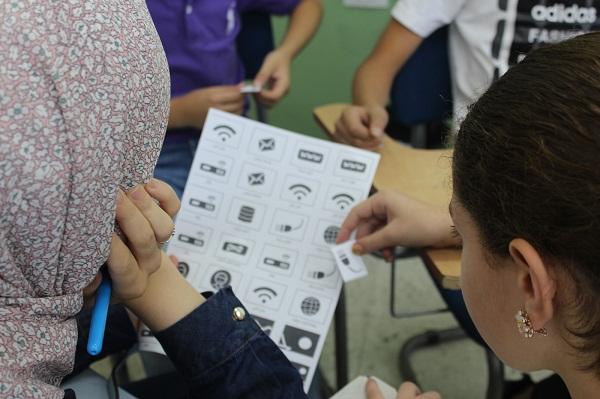 Trainers from 7amleh's Digital Safety Programme concluded more than 120 workshops, in which more than 2000 people from different groups participated including department heads of the Ministry of Education, professors, researchers and students from colleges and universities, youth, activists, teachers, civil society and human rights organizations, journalists and many more.
In the workshops, topics related to individual and institutional digital security were examined including content about data privacy and protection, how the Internet works, smartphones, browsers and social networks, digital rights and how to deal with gender based violence online. Sarah Khatib, a participant from one of these workshops with university students from Jerusalem stated, "The digital safety training is one of the few important and practical exercises of its kind. It is full of information and inevitably helps us to protect ourselves on the Internet, increases awareness of the dangers that may befall us and gives us the tools to prevent them." Digital Security Training of Trainers & Development of Educational Workshop Package Trainers of the Digital Safety Project participated in several Training of Trainers during the year to further develop their skills and knowledge in the field.
The first training was with trainer Khalil Shreteh and focused on the technical developments in digital safety, hacking mechanisms and protection. The second training was with trainer Reem Al-Masry, from the Ink Foundation, who focused on developing the skills of trainers to build interactive programs. The third training, with trainer Gilport Koutropy, who specializes in institutional digital advancements, provided trainers with a guidance model to develop digitally safe enterprises that protect information, data and employees digitally. The latest training, with trainer and counselor Subhi Khatib, was part of a continued process to address gender-based violence online and to develop a workshop package on gender equality in the digital space. The workshop package was distributed to the relevant institutions working in the field or hosting youth groups that can benefit from digital security workshops. The package is also available at 7amleh's offices and can be obtained as an electronic copy on our website. Trainer, Dana Al-Lababidi from Gaza, shared her experience with the project, "The Digital Safety Project is very important for imparting knowledge to different groups of society, as they use their smartphones or computers without knowing about digital safety methods and data privacy. Especially as we are under occupation and thus further exposed to arrests and violations of our digital rights and privacy.
The importance of the topic attracted a large audience to the digital security workshops who responded positively to the opportunity to learn about this topic." Public Awareness Raising - "Arabic Digital Safety" Website In addition to the workshops, 7amleh focused this year on expanding the target audience for digital security information and raising awareness of the public. 7amleh organized the Digital Security Education Conference in cooperation with the Media Development Center at Birzeit University and under the patronage of the Palestinian Ministry of Education.
The conference was attended by more than 200 participants including professors and students of media, civil society organizations, human rights defenders, researchers and others interested in media education and digital security. 7amleh also developed the dedicated webpage "Arabic Digital Safety" which contains Arabic content on digital security and has been circulated through social media platforms. The site includes articles discussing practices and policies from different applications and sites that may affect or enhance the digital security of users. Visitors can access guides that help develop safety measures for digital platforms, in addition to visual materials that help understand the best practices for digital security. 7amleh was able to develop this project with the kind support of Deutsche Welle Academy.
Visit our site: http://dsc.7amleh.org