A story called Awajan (Awajan Village)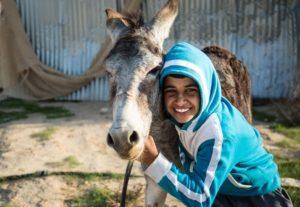 A story called Awajan (Awajan Village)
About the exhibition:
I have repeated this saying, held onto it, wrote it down whenever I had the chance, in school notebooks or engraved it on the walls of the house: "One that invests great effort shall gain, and one that plants seeds shall harvest." This saying was most present when the Keren Kaiemet bulldozers went over our lands to destroy in minutes what we had spent months building. This saying was most present when the claws of the bulldozers were tearing the skin of earth to prevent us from our harvest and to announce the authorities' intentions to plant the land with trees foreign to us.
This exhibition is about the story of a man discovering that the one that invests great effort shall be arrested, and one that plants seeds shall have them confiscated. These are the rules of the game that is played against us. The story is about a man who hates the foreign trees, the trees that hide the face of his village, the trees that are trying to eliminate his existence. This exhibition is a message to those who try to change the role of the tree from a beautiful provider of shade to a symbol of occupation.
These photos are a small present to Awajan village, a village under imminent and continuous threat of agricultural sabotage. A struggling village that despite everything, will not abandon the saying "and he who plants shall harvest."
Group Members: Yahya Al Rubeydi, Omar Abu Jabar, Asia Al Sanaa, Wala Al Sanaa, Akhalas Al Sanaa, and Sana Al Sanaa
The Naqab Youth for Human Rights Project is an initiative of Baladna, Association for Arab Youth, and is funded by EMHRF.