The Soil of Nam (Wadi Nam)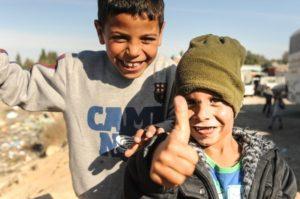 The Soil of Nam (Wadi Nam)
About the Exhibition:
We planted a tree of hope and we protected so we could walk a path paved differently from the one walked by my mother and father.
For the people of Wadi Al Nam this means that education is not simply reading the slogan "Knowledge is light" on the school uniform but knowing that keeping the land of our ancestors, despite all the deprivation and difficulties, is an act of resistance.
This exhibition is about a small room with a roof made of zinc and the sound of a generator that over shadows the children when they go outside for a short break or when they sing their morning songs. This is about a school that is the only window of hope, and that the authorities tried to close to transfer its students to a different school in a different village.
Ahmad says, "I have been around the globe. Everyday I walked 3 kilometers to school. Calculate 3 kilometers everyday for 12 years and how much will it be?"
Group Members: Naaman Abu Huwaydi, Kuther Abu Kaf, Ghazala Al Zeydine, Hafid Abu Huwaydi, Naser Al Dunfiri, Miram Abu Shlouf, Asmahan Al Kheshkhir
The Naqab Youth for Human Rights Project is an initiative of Baladna, Association for Arab Youth, and is funded by EMHRF.