A group of social media activists embarked on a citizen journalism visit to the village of Attir - Um Al Hiran on Saturday 23rd May. The tour was arranged by 7amleh, the Arab Center for the Advancement of Social Media and Adalah, the Legal Center for Arab Minority Rights in Israel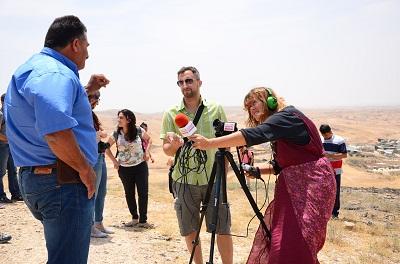 A group of social media activists embarked on a citizen journalism visit to the village of Attir - Um Al Hiran on Saturday 23rd May. The tour was arranged by 7amleh, the Arab Center for the Advancement of Social Media and Adalah, the Legal Center for Arab Minority Rights in Israel
The aim of the trip was to expose the activists to the current legal and social situation of the village, as well as to deepen solidarity with the villagers and help to amplify their voices. The beginning of the tour included a visit to Attir, which faces demolition and evacuation orders as it stands in the way of a forestation project which "requires" the cultivation of a forest and pastures for livestock.
Mr Ali Farhoud Abu Al Qian spoke about the history of Attir and Um Al Hiran, where his tribe were moved from Wadi Al-Zibalah. They have lived in Wadi Attir for more than 60 years. Today, Israel plans to forcibly remove the people of the village without any guarantees of suitable resetlement. Abu Al Qian pointed out that "Even with the difficult conditions in the village today, it is not hard for us to deal with the state's decision with attempts to counter it". He also stressed that what the villagers of Attir and Um Al Hiran are going through is a daily continuation of the Nakba.
In Um Al Hiran, Mr Salim Abu Al Qian and Mr Raed Abu Al Qian, both from the local village committee, presented a full explanation of the establishment of the village and its struggle, as well as the main points of its legal case. The Israeli government plans to expel the residents of Attir - Um Al Hiran from their village so that it can resettle a group of religious Jews on is ruins.
Mr Raed Abu Al Qian also expressed the villagers insistence on staying on their land and clinging to their political rights. After this, the activists were given a tour of the village and spoke to Mrs. Ibrahim, one of the oldest grandmothers in the village, who spoke of the difficulties her family have faced since they were displaced from their original lands in 1948, up until today.
The activists also met a group of children and chatted with them in order to better understand the nature of Attir-Um Al Hiran's society. At the end of the trip, the activists met with two women, Um Rani and Um Raed, who spoke about the role of women in the village, specifically in terms of facing demolition and expulsion.
The tour reflected the belief that the villagers of Um Al Hiran are the children of people from all regions, and the role of activists and the media in acting as an extension of the people of the village in their struggle against the Israeli government. The activists understood the necessity of highlighting the importance of the village on social media and supporting their right to stay in their homes by publishing material on their extensive social networks under the hashtag #Save_UmAlHiran (en) or #لن_تسقط_أم_الحيران The tour is part of a series of solidarity and citizen journalism tours to villages threatened with demolition. The 7amleh Center arranged a similar tour to Dahmash last month.
Follow the Um Al Hiran page on facebook: https://www.facebook.com/umalhiran