"Al Mkhzan" held its first meeting over two days in the unrecognised village of "Khashem Zeneh", with a group of 17 photographers from all areas of the Galilee. Participants were both amateur and professional photographers with an interest in photography as a tool for raising awareness, contributing to the Palestinian struggle and organising youth and human rights campaigns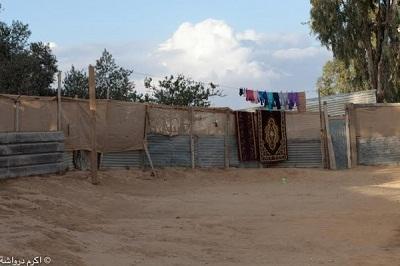 7amleh (Hamleh), the Arab Center for Social Media Advancement began a photography project called "Al Mkhzan" (The Storehouse), with a focus on social movements and human rights. The first meeting of this project was held in the Naqab and attendants were given training and supervision from Palestinian photographer Mohammed Badarne.
During the first meeting, participants met Palestinian photographer Alaa Badarne for a workshop on reporting techniques and methods which can be used to practice photography in confrontational situations. A representative from the photography group "Active Stills" gave a workshop on their work documenting human rights violations, and Mohammed Badarne presented a talk on "The Field of Documentary Photography". Participants were also educated on the political context of the Naqab, with an introduction by Attia Assam from the Regional Council on the situation of unrecognised villages in the Naqab, and a discussion on the reality of life in Khashem Zeneh by Attia Othman. This first meeting produced a group of photographers committed to the "Al Mkhzan" project. Mohammed Badarne explains: "The importance of "Al Mkhzan" lies in using the camera as a campaigning tool and defending the communities that we are documenting. The project relies heavily on teamwork, and photographers should always remember that they are working to deter human rights violations."
About 7amleh – Arab Center for Social Media Advancement
7amleh is a professional civil society centre for social media, focusing on managing influential civil media campaigns and training professionals in social media and advocacy. 7amleh has been launched to raise awareness of campaigns and advocacy – the most important tools available to youth and oppressed, marginalised groups to raise awareness through working together to change the current situation in Palestine. Social media is a key way to confront different challenges and obstacles faced by activists, and to advocate and campaign to a wide range of people, both locally and in the wider Arab world. The 7amleh Center's priorities are campaigns which raise awareness of human rights and democratic freedoms, as well as those which call to end racism, violence and sectarianism.