PAID INTERNSHIP AVAILABLE!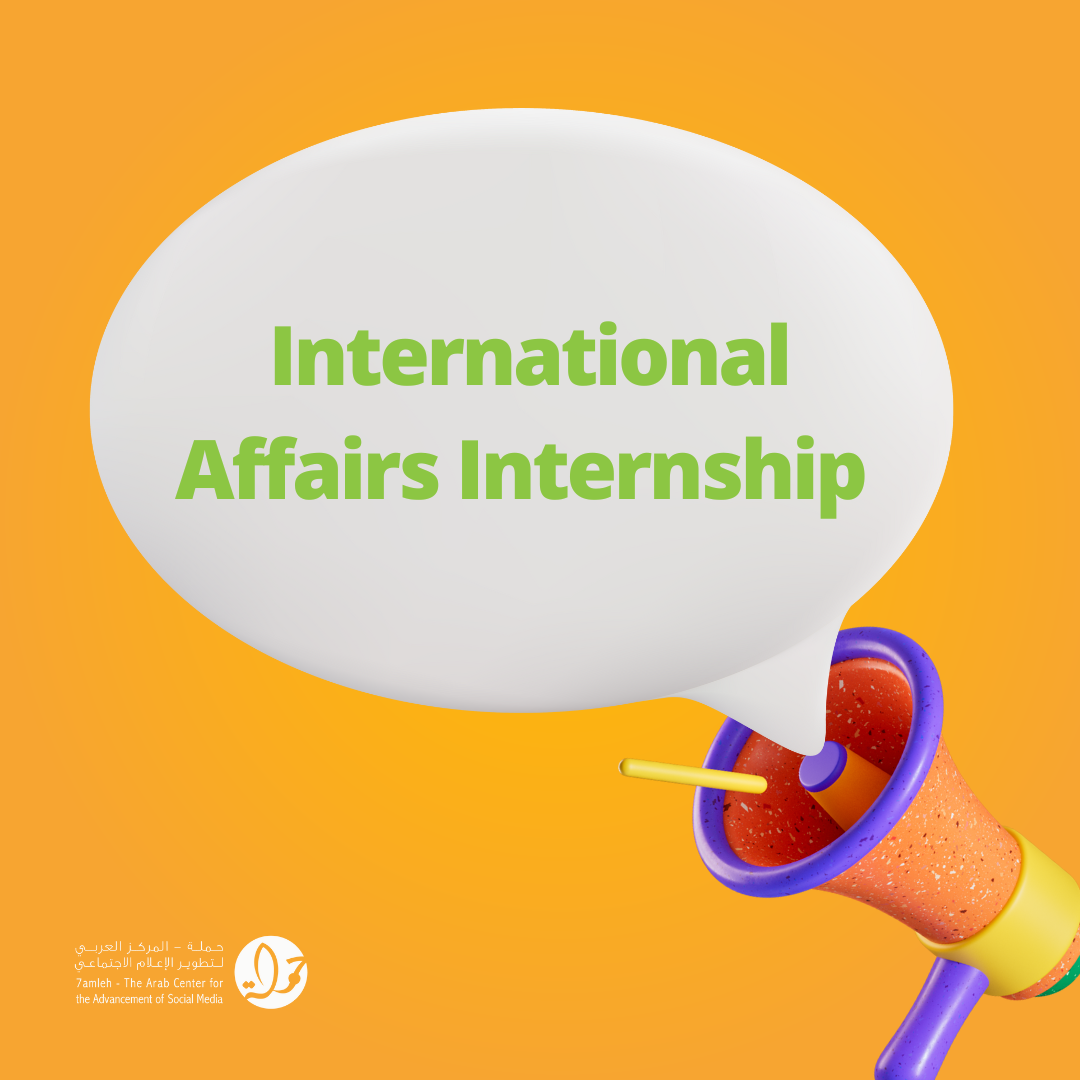 We at 7amleh - the Arab Center for the Advancement of Social Media are looking for an International Affairs Intern to support our International Affairs Department. 7amleh is a Palestinian non-profit organization working to advocate Palestinian digital rights locally, regionally and internationally. Our work includes research, advocacy and capacity-building.
Internship Description:
The International Affairs Intern will work closely with 7amleh's International Affairs Department, supporting its efforts to advocate for and raise awareness about Palestinian digital rights. The Intern will do so through conducting research, translation, coordinating projects, and supporting the Advocacy Team in planning and managing advocacy campaigns and events. The internship is also designed as an opportunity for the intern to improve their work experience and skills. The Intern will work alongside a Senior 7amleh staff member who will offer support and resources in an effort to build the Intern's capacity in campaigning, advocacy, coalition building and project coordination. The Intern will be in contact with a wider network of interns working in civil society organizations across the world, to share experiences and learned lessons, as part of the ActionAid Inspirators network. The position will be available for 6 months, until the end of 2022, with possibility of extension for 1 year.
Responsibilities:
Supporting advocacy campaigns with coordination, content, ideas, research, communications, translation, etc.

Assisting in coordination of 7amleh projects, including plan design, content development, communications, promotion, reporting, etc.

Conducting research into digital rights issues when needed.

Supporting 7amleh team in content development, including drafting content, editing, translation, etc.

Supporting 7amleh's local advocacy team, as well as 7amleh's monitoring and documentation program when needed.

Attending monthly meetings with the ActionAid Inspirator network for skills development and mutual learning.

Position available for 6 months with possibility to extend for 1 year.
Requirements:
Bachelor's degree in social sciences, political sciences, human rights and international law, media studies, or other fields relevant to 7amleh's work.

Native level written and spoken English and Arabic skills.

Professional research/academic writing skills.

Previous experience with human rights or digital rights is desirable.

Full-time availability for a minimum of 6 months starting from 1.8.2022.
Please apply by sending your C.V and a motivation letter by 3.8.2022 latest to jobs@7amleh.org.