7amleh issued a new report entitled "The Attacks on Palestinian Digital Rights."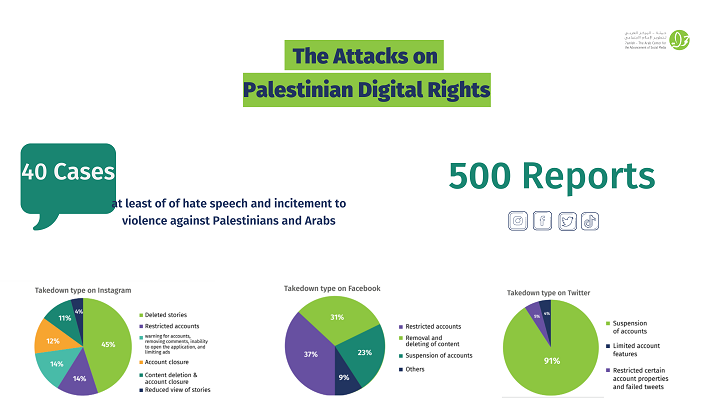 Today, Friday, May 21, 2021, 7amleh - The Arab Center for the Development of Social Media issued a new report entitled "The Attacks on Palestinian Digital Rights." The report is based on reports of digital rights violations from May 6 - 19 and the responses of social media companies to these reports. The report shows increases in attacks on Palestinian digital rights and details the violations on various social media and technology platforms, including the spread of hate speech and incitement against Palestinians and Arabs in the Hebrew language.
7amleh documented more than 500 reports of Palestinian digital rights violations with the support of the public and civil society during the aforementioned period, which showed a significant increase in the censorship of Palestinian political speech and narrative online. Since May 6th, when the Israeli supreme court announced its decision to forcibly displace Palestinians living in East Jerusalem's Sheikh Jarrah neighborhood, and following the attacks on Al-Aqsa mosque, protests and mobs of Israeli settlers targeting Palestinians, and the attacks on the Gaza Strip, large amounts of Palestinian content and accounts were removed or restricted on social media platforms.
According to the report, content and accounts were removed, reduced and restricted, hashtags were hidden, and archived content deleted. 50% of these reports were about Instagram, 35% Facebook, 11% Twitter and 1% Tik Tok. 3% of the reports did not include sufficient information to be reported to companies.
Companies did not provide an explanation for the deletion or suspension in the majority of their responses to users. However, the reasons presented to users included hate speech, violation of community standards, requesting proof of identity among others. After 7amleh's submission of the reports to social media companies, companies recovered and restored some of these accounts and censored content. However, several reports are still under review.
Some platforms issued public statements addressing concerns from activists and organizations that they are censoring Palestinian political speech. However, their explanation only focused on technical issues and did not adequately explain the high rate and diverse types of censorship documented by rights advocates. As digital rights advocates know, censorship of Palestinians on social media is an ongoing issue and the recent increase in reports and violations represents an escalation of an already existing problem, instead of a new trend. Additionally, it is likely that the efforts of the Israeli Ministry of Justice's Cyber Unit -- which over the past years submitted tens of thousands of cases to companies without any legal basis -- is also behind many of these reported violations.
7amleh also received 40 reports that exposed the hate speech and incitement to violence directed towards Palestinians and Arabs online, including reports of Israeli extremist groups mobilizing lynch mobs on WhatsApp and Telegram. This incitement extended to the offline and led to the killing of two Palestinians during this time. Although social media companies were able to remove part of this content following 7amleh's submission of reports, hate speech and content inciting to violence online persists, which points to the longstanding issue of a lack of sufficient investment in identifying, monitoring and actioning on hate speech and violent content directed at Palestinians and Arabs.
The Israeli authorities also used geolocation tracking to identify worshipers in the Al-Aqsa Mosque and send them messages from the Israeli government on their phones threatening that they would be held accountable for participating in violence.
The Israeli Ministry of Strategic Affairs promoted a video on Google's YouTube that aimed to justify the attacks on the Gaza Strip. Google also blurred the Gaza Strip and made the area low-resolution on Google Maps, impeding the ability of human rights groups to document attacks and demolitions. Financial payment platforms like Venmo also prevented people from donating to Palestinian organizations.
On Tuesday, May 18, the Palestinian Prime Minister, Muhammad Shtayyeh, met with the Facebook's Head of Global Affairs and Communications, Nick Clegg, and 7amleh's Local Advocacy Maanager, Mona Shtaya, to discuss Facebook's impact on Palestinian digital rights and to stop incitement against Palestinians and Arabs on its platforms.
This meeting came after a letter sent by 7amleh on May 17th to Facebook's CEO, Mark Zuckerberg, that called for Facebook to stop shrinking the Palestinian digital space and contributing to violating Palestinians human rights. In particular the letter, highlighted content that incites violence against Palestinians and Arabs and the work of the Israeli Cyber ​​Unit, which sent tens of thousands of requests to social media companies to remove content in the past years without any legal basis. 7amleh also called on Facebook to provide more transparency in their reports about the nature of the content taken down by the Israeli cyber Unit and to provide transparency to users about if their content was taken down or account restricted due to voluntary requests from the government.
These efforts are a continuation of 7amleh's ongoing work to protect Palestinian digital rights and to document rights violations, which has intensified in the past two weeks during Israel's attacks on Palestinians.
Check out the full report here