Facebook adds 7amleh materials to its Help Center.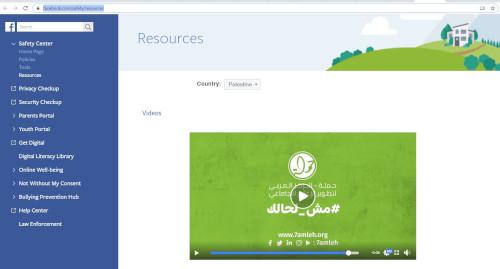 Facebook added 7amleh's materials on gender-based violence online (GBVO), produced in Arabic to raise awareness on the issue of GBV in the online space in Palestine to its 'Help Center' and more specifically the 'Safety Center' section, after listing Palestine as a country in the safety center.
The Safety Center aims to ensure the maintenance of account security, protection of personal information, and allows for the submission of reports in case of violation of a users' privacy, someone impersonating a user, or any other abuse.
7amleh produced the campaign materials as part of its "You Are Not Alone" (Arabic: Mish Lahalek) campaign, which was designed to raise awareness of the phenomena of gender-based violence online. Due to an increase in GBVO as a result of the corona virus quarantine measures, there was a high need for these materials. The video featured in Facebook's Help Center aims to support victims of GBVO, and lists relevant local organizations supporting them.