Civil Society Organizations call on Zoom to Stop Shrinking Space for Freedom of Expression.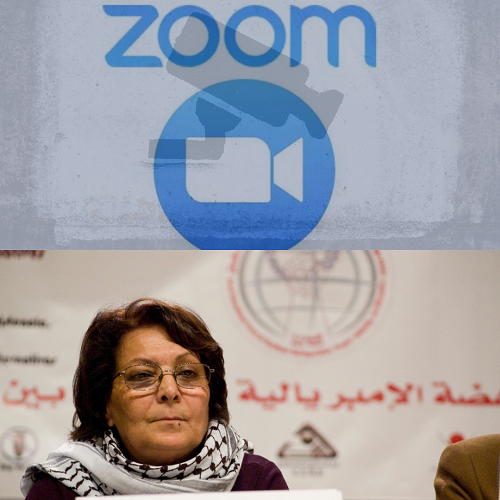 Activists and civil society and digital rights organizations warn against the growing dangers for freedom of expression and political association online. On September 23, 2020, Zoom, Facebook and YouTube censored an event organized by San Francisco State University's Arab and Muslim Ethnicity and Diasporas Studies program, who had invited Leila Khaled to speak at their online event, a well known Palestinian political figure. The event would have aired freely and fairly if it had not been targeted by several anti-Palestinian legal and campaigning organizations in support of the Israeli occupation state well known for their attempts to silence Palestinian freedom of expression online. Very few Zoom meetings have ever been shut down, and this is one of the first known account shut downs related to Palestine and Palestinians.
The policies and practices of major tech companies are increasingly impacting human rights, in particular the right to freedom of expression and political association, under pressure from governments including the Israeli government and powerful lobbies. Palestinian activists and digital rights researchers have long known that companies are over-censoring and often removing journalist and human rights content, and have been campaigning for tech companies to stop censoring Palestinians.
In recent months, Zoom's influence has grown to host 300 million people per day, including 90,000 schools in 20 countries. Each month, almost 3 billion people use Facebook or WhatsApp or Instagram, and 2 billion people use Youtube. To carry out a widely attended event it is nearly impossible to avoid using one of these companies' products when online, hence those companies and platforms must comply with the international human rights standards in accordance with article 19 of the International Covenant on Civil and Political Rights and to put an end to the digital discrimination of Palestinians.
The Human Rights Council at the United Nations in document A/HRC/32/L.20 has affirmed that human rights apply equally online as they do offline. As it becomes increasingly essential to access digital platforms in order to exercise fundamental human rights and freedoms, commercial and technology companies must uphold the highest human rights standards and not succumb to outside pressure to censor legitimate political voices and freedom of expression.
Signatories:
Palestine Digital Rights Coalition
Palestine NGO Network
Palestinian Human Rights Organizations Council
Association France Palestine Solidarité (AFPS)
Comunidad Palestina de Chile
Jewish Voice for Peace
Palestine Solidarity Campaign