A delegation from 7amleh Center attends the RightsCon 2019 in Tunis.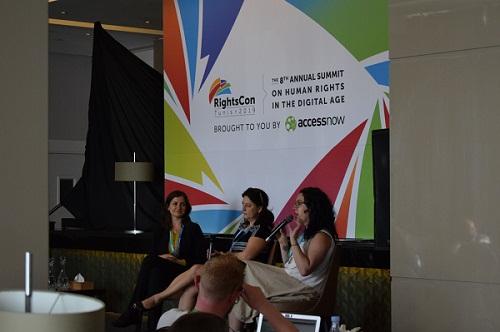 7amleh organized a delegation of Palestinian advocates to attend Rights Con, the world's leading summit on human rights in the digital age in Tunisia. The conference was attended by over 2500 policymakers, tech developers, people working in international organizations, development agencies, civil society, and all other stakeholders, who came together to develop understandings of how human rights are being impacted in the digital age. 7amleh organized two sessions at RightsCon and participated in a session organized by Article 19.
Our first session "The Palestinian Cause for Digital Freedoms" was moderated by Lina Hegazi, from 7amleh, and included panelists Alison Carmel, from 7amleh, and Rania Muhareb and Dr. Isam Abdeen from Al Haq. The panel focused on the threats to Palestinian digital freedoms including policies and practices by governmental and non-governmental actors, in particular social media companies.
In our second session, "Complicit or Neutral? Content Moderation in Conflict Areas," 7amleh joined Caroline Sinders, a designer and user researcher, and Victoire Rio, from the Myanmar Tech Accountability Network. The panel focused on how despite social media companies self-proclaimed neutrality, digital rights advocates know that this is often not the case. The session questions the position of social media companies, most notably Facebook, by examining their content moderation policies in conflict areas and how they affect politics on the ground, become complicit in human rights violations, and deepen oppression and political asymmetries.
We also participated in Article 19's "Breaking the Digital Sphere" and the launch of their #MissingVoices campaign that is holding social media platforms transparent and accountable when content is wrongfully removed. We had a inspirational range of paneslists that included, Alison Carmel from 7amleh, Dmitri Bartenev, a professor at St Petersburg State University, Hibo a lawyer and activist against FGM practice from Kenya, Johanna Szymanska from Article19 East and Central Asia office and Alp Toker from NetBlocks.
Lastly, 7amleh met with several representatives from tech companies, including Facebook, and met with the United Nations Special Rapporteur on Freedom of Expression, David Kaye, to support his office's research on freedom of expression and content moderation policies for his upcoming report.