7amleh Social Media Marketing Trainings
7amleh conducts trainings in social media marketing in Haifa and Jerusalem, with guest speaker Khaled Al-Ahmed, Social Media Manager at Zain Jordan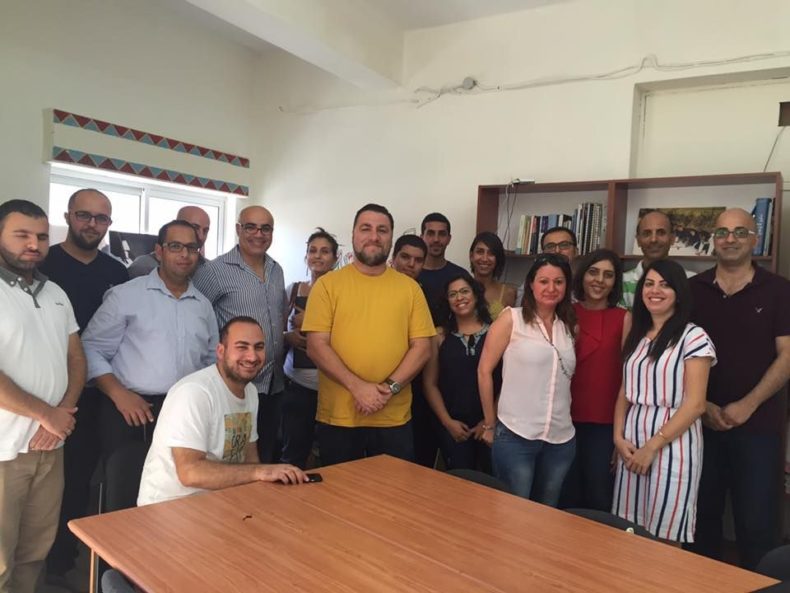 7amleh conducts trainings in social media marketing in Haifa and Jerusalem, with guest speaker Khaled Al-Ahmed, Social Media Manager at Zain Jordan
Between the 3rd and 4th of September, 7amleh conducted two workshops in social media marketing for activists in the Palestinian civil society.  The first of these took place in Haifa, and the second was hosted by the Vision Foundation in Jerusalem; where journalists from the Qudscom electronic newspaper, and civil society activists were both in attendance. His extensive and impressive experience in the field of consulting and training for social media strategies, during which he has advised various government institutions, businesses, and NGOs, is experience which is vital to the activism work of the Palestinian civil society. It is for this reason we at 7amleh felt it was important to bring his knowledge directly to those who need it.
The two workshops consisted of a series of intense and rapid exercises conducted by Al-Ahmed.  He reviewed in these exercises the differences and advantages of marketing languages for each of the different platforms on social networks: Twitter, Facebook, YouTube, etc. Both trainings focused on methodology behind building a successful marketing campaign based on the data and in-depth study of the needs of the public and its interaction with content provided to them. Al-Ahmed also presented mechanisms which are working to develop the ability of activists to listen more closely and attentively to the voice of the Palestinian society itself. Tools to increase the reach of social media pages and campaigns were also provided, in addition to a brief overview of professional shortcuts for raising the ability of activists to make a broader global impact.
Nadim Nashif, co-founder of 7amleh, concluded the trainings by commenting  that the workshops are just two parts of a series of training courses aimed at strengthening and empowering Palestinian civil society capacities in digital activism, which has become one of the most important campaigning tools of our age.