7amleh Center graduates new cycle of course on digital marketing campaigns for civil society organizations in Ramallah
A new cycle of graduates from 7amleh's course in digital marketing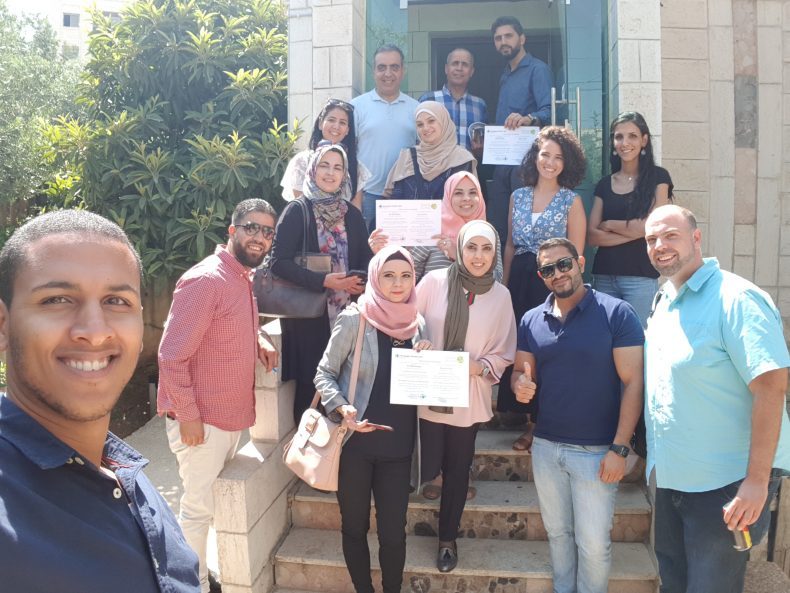 7amleh Center – the Arab Center for the Development of Social Media concluded on Monday the first training course in campaign building and digital marketing for civil society institutions and human rights organizations from different governorates of the West Bank in cooperation with the Norwegian People's Aid.
This training was based on the results of a survey with the title "Digital Activity Survey of Palestinian NGOs", which was conducted by 7amleh Center at the beginning of this year and describes the digital activity of Palestinian NGOs in Israel, Jerusalem, the West Bank and Gaza. The survey discusses the most important challenges and needs of Palestinian institutions in the digital field. The recommendations included a number of points, the most important of which is to keep NGOs updated with the latest developments in this field, for training on the management of social networks and digital security, content marketing for social media campaigns.
The course was attended by 16 media and advocacy professionals from various institutions in the West Bank. The course included 6 intensive training sessions that lasted 42 hours. The training covered various topics related to campaign building and digital marketing such as marketing strategy, building creative briefs for campaigns, marketing through social networks, content marketing, search engine marketing, and marketing campaigns. The trainers were Iyad Barghouti, with a Master degree in Business administration specializing in the management of non-profit organisations,and Hassan Jadeh the director of Concept and the founder of Concepts, a specialist in digital programming and marketing, and the founder of the Hakki application, which provides tools for listening and evaluating social platforms.
This training is part of a series of trainings that 7amleh Center offers as part of a campaign of trainings intended to build the capacity of Palestinian organizations on both sides of the Green Line in the field of digital activism, digital security, online campaigns, digital marketing, fundraising and similar topics.