First round of graduates from 7amleh's digital Campaigning & marketing training course in Gaza
7amleh center's first round of trainees graduate from digital Campaigning
& marketing course in Gaza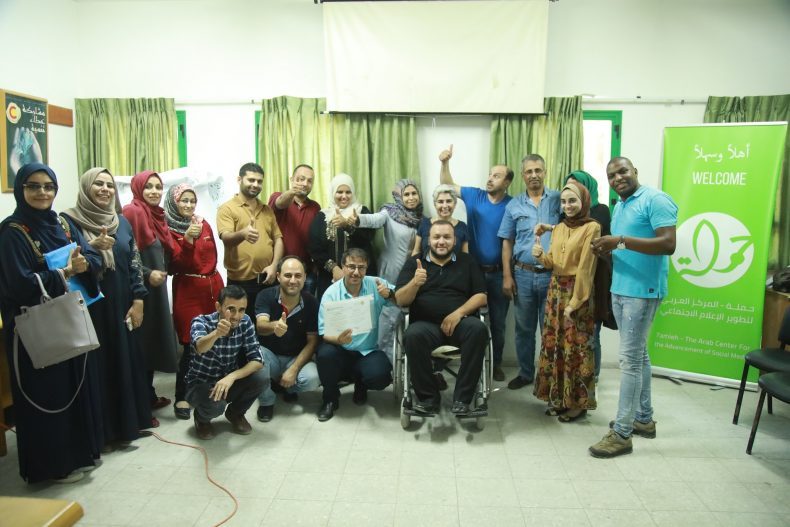 7amleh – the Arab Center for the Development of Social Media concluded on Tuesday the first training course in campaign building and digital marketing for civil society institutions and human rights organisations, in cooperation with the Norwegian People's Aid. The first group in Gaza graduated the course.
This training was based on the results of a survey on "Digital Activity of Palestinian NGOs" conducted by 7amleh Center at the beginning of this year, which describes the digital activity of Palestinian NGOs in Israel, Jerusalem, the West Bank and Gaza. The survey discusses the most important challenges and needs of Palestinian NGOs.The organisations identified a number of issues they face in the digital field, the most important of which is training on the management of social networks and digital security, training on writing creative and marketing content for social campaigns and planning and implementing these campaigns.


The survey showed that these organisations face a number of challenges and obstacles when building online campaigns. 48% of the institutions indicated that the main obstacle is the lack of professionals, while 37% identified a need for professional trainings and capacity building.
The training course was attended by 16 participants from various media and advocacy professionals from different organizations in the Gaza Strip. The course included 6 intensive training sessions, which lasted in total 42 hours. The participants were trained in various topics in the field of campaign building and digital marketing such as: marketing strategy, marketing, marketing through social networks, content marketing, search engine marketing, and marketing campaigns. The trainers of this course are professionals in digital marketing campaigning in Gaza, Ali Bakhit, President of the Social Media Club in Palestine and Hanan Khashan, a graduate of the Faculty of Information Technology and a digital marketing expert.
7amleh Center annually conducts a series of trainings and capacity building sessions for Palestinian institutions on both sides of the Green Line, in the field of digital activity, including training in the field of digital advocacy, e-campaigns, digital marketing, crowdfunding and other topics.