#WeWillNotBeSilent Project Launch Event
Baladna – Association for Arab Youth, Adalah – the Legal Center for Arab Minority Rights in Israel, and 7amleh – the Arab Center for Social Media Advancement would like to invite you to take part in the opening event of their joint project #WeWillNotBeSilent – a project for promoting and protecting the freedom of expression of Arab youth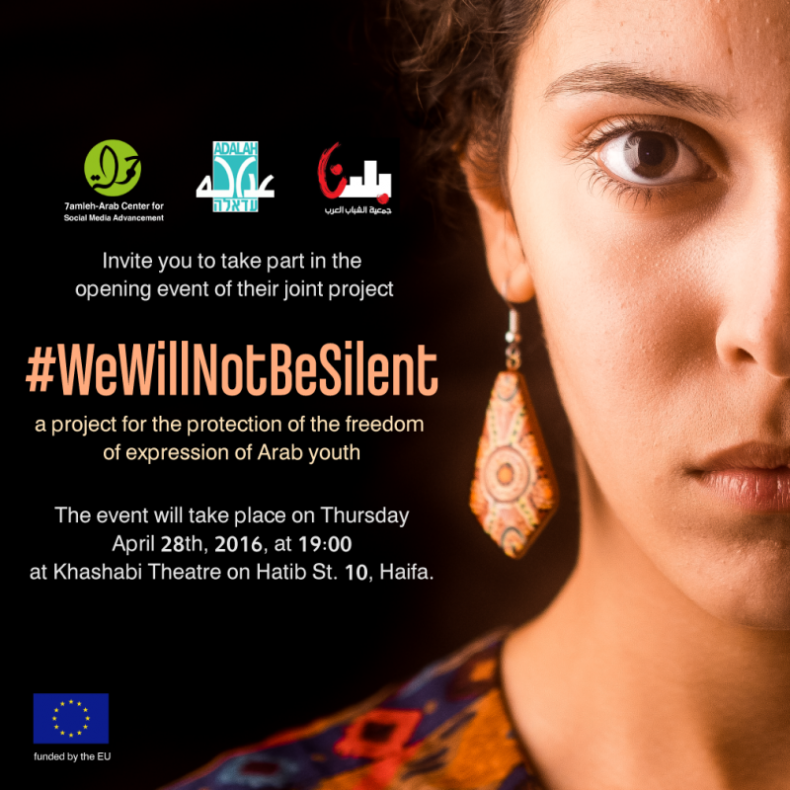 Baladna – Association for Arab Youth, Adalah – the Legal Center for Arab Minority Rights in Israel, and 7amleh – the Arab Center for Social Media Advancement would like to invite you to take part in the opening event of their joint project #WeWillNotBeSilent – a project for promoting and protecting the freedom of expression of Arab youth.
The event will take place on Thursday, April 28th, 2016, at 19:00 at Khashabi Theatre on Hatib St. 10, Haifa.
The event's program will include:
A launch and presentation of the project and its vision
Visual stories and a photo exhibition of Arab youth detainees
A legal talk on the detention of Arab youth in regards to their freedom of expression
Testimonies from Behind Bars: young women and men telling their stories
We will protect our voices and our freedom of expression, join us!
For more details, please contact us at:
vol@baladnayouth.org / +972-542-225-610
Or check out our Facebook event:
https://www.facebook.com/events/222327531456632/